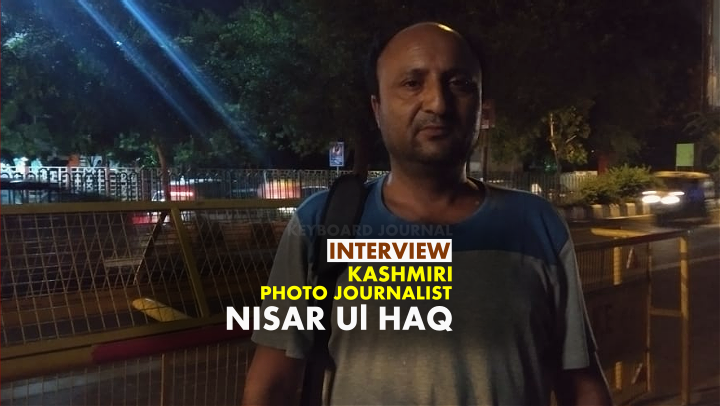 "I never had lost courage, but now I feel it is death" Kashmiri photo journalist Nisar ul Haq speaks out
The Kashmiri press is shut since the abrogation of article 370 on August 5th. The Kashmiri news papers and Kashmiri journalists has a long history of being subjected to Indian government's repression, which now got culminated into a stand still and unemployment. Kashmiri journalists are unable to work and it is uncertain about the future. Three days before, journalists in Jammu and Kashmir came out protesting the communication clamp down, declaring "We are journalists, not mouth pieces." Rising Kashmir's photo journalist Nisar Ul Haq talks about the current crisis and political challenges faced in Kashmiri journalism.
"In 2004, I started working for a local news paper in Kashmir, Daily Alzahar. I started working as a photo journalist, there was no social media then. I used to do photography. The situation was different then in Jammu and Kashmir, to cover anything from Kashmir was difficult to anyone. From my district I was the only photo journalist, when an encounter happens I go to cover it. There was not too much of army, police was in large number. Never the army or police tortured me. They didn't ask me why are you covering the encounter or for whom you are working. There was no problem like that. This is the case of 2004. But after that, during 2005, 2006, 2007, 2008, 2009…I used to be afraid, because the CRPF, army and police used to scare me. There was no pellet gun in use then. Tear gas shelling used to be there. If there is a protest, it was not encountered by pellet, I am talking about 2005. We used to have fights with them, but the situation was not very difficult. Any events of the army or the police were too reported by me, they got published too.
Pellet gun system became very common in use around 2010. it entirely changed the scenario of Kashmir. It put the Kashmiri population in fear. A journalist's job is, when there is an encounter or when there is a protest, to go there. We used to have fights with the people and we used to have fights with the security forces. In 2018, during an encounter in South Kashmir when we reached the encounter site, we requested the people to pause the protest so that we can move forward, people gave us way to move forward, we were around 7 people, we moved forward, I was in the front. Suddenly I felt a current. Then I fell down. I asked my colleague Waseem Andrabi, "Waseem Andrabi did you hit by pellet?" Then he said, "Leave me, your eye is bleeding." I checked my left eye. I couldn't see anything. I touched blood, and I felt that the pellet has gone inside my eye. People came fast, they helped me to get up. They rescued me. There was a medical assistant, I was taken to him, he was removing pellets from other boys, when my turn came he said, "Your pellet can't be taken out because it went into the eyelid", and on my jaw line the pellets hit. He spoke to me in medical terms and asked me whether I can see anything. He gave me medicated cotton to cover my eye and asked me to go to district hospital. Medical department helped a lot with it. I tested my eye there. The doctor told me my eye must be operated. He asked me not to get a surgery, it will affect you badly, it will weaken your eye, what is good is to keep the pellet not removed, let it be there. The organization I work for, 'Rising Kashmir', completely supported me. The doctor prescribed me three medicines that I should take without fail. If I fail it, my eyes will get tears automatically. Yearly the medicine takes 65000 rupees. Monthly it takes 3500 rupees. I'm on the medicines now. Leave me, I am a journalist working there, I can see you very well now, but the common people there, there are many who lost eye sight as the pellet went inside. I was reporting an incident in Pulwama, where a protest was going on, a Bihari laborer who came to the market to buy something, got pellets hit in his both eyes. He can't see anything. We helped him to reach back to Delhi.
You mentioned about your editor Shaheed Shujaat Bukhari, do you know what really happened?
The case is pending with the police, still we don't know who killed Rising Kashmir's editor Shujaat Bukhari. Who made him Shaheed, why did they murder him, but I will just say this, he is Kashmir's biggest loss. Even after the murder Rising Kashmir continued working, Kashmir never had such a journalist before. He used to call every reporter to know how the day went. Like parents asks their children, he used to enquire. He followed the ethics and rules of journalism as such. He had built a team who could publish the paper on the very next day of him getting murdered. Since then the paper didn't stop. What can be greater than that? Shujaat sahib was the light of the Kashmir. None of us wants to become Shujaat sahib but we are trying to follow the path he has shown us.
Can you tell me what you have witnessed in Kashmir after the abrogation of article 370?
On 4 August 2019, no, on 1 August 2019 there was deployment of forces, everyone was very disturbed, already there is this much force here, beyond them, why more force, what is the urgency? We were in fear, there was this saying in the air, article 370 is going to be revoked, mainstream political party leaders like Omar Abdullah, Farooq Abdullah etc met governor and the prime minister, the governor's statement had not come. The official statement came that we are not doing anything with the article 35A whatsoever going on in the air is a rumor. They gave the statement that 35A can't be removed. Security forces are bought because of election. As days passed and reached August 4th, the tension was at its peak. Where there were no security forces, there are security forces deployed, where there was no banker there are bankers, 1989 like base they made. What Kashmir was in 1989, it was recreated like that. Everyone was telling it is for assembly election. My friend's sister's marriage was to be held on 5th of August. It is a far flung area, where jio had no network. After the mehendi raat, when I woke up on 5th August and checked phone, there is no internet, internet is bandh (stopped). What happened, suddenly internet got snapped, my Jio is not working, my phone too doesn't have any network. We thought the internet is cut because somewhere any encounter would be going on, as per government's instruction the internet must have been snapped. To control the crowd they might have done it. I told my friend I will go to the neighbor village. I told my friend we can check in the town too. I went. I saw people on the way. Half kilometer away from the town I found barbed wires. I told the security forces that I am a journalist, I want to go to office, they said you are not allowed in the Pulwama town, I asked what are you saying I am not allowed in the town, what does that mean? They said, don't you know why? I told them, I was at a marriage, there was no tv, they told me, "article 35A is scrapped" I was feeling that can't happen, I asked them, what are you saying, this can't happen, the governor didn't say anything about it. No political party gave any information about that. I told them this is a rumor, they asked my name, I said my name is Nizar. I wanted to go home. They said if I had to move, I had to get the curfew pass from deputy commissioner. I started to move towards my home. Then I saw a police vehicle, they were giving an announcement that 144 is to be imposed, in our village. They put each and every area under curfew. I changed my clothes, took my camera, took my bike and started off. I went insides, insides, and reached DC office, to get curfew pass, he said you are not allowed to move, order is yet to come from above, and they asked me to return. I told them, yaar this is my job, how can I sit just like that? In the town, I told I'm from press, they let me go in. and I shot with my camera. That day internet was completely off. I had to go to Srinagar after that. Landlines are not working. What will I do? Internet bandh, landlines bandh, those footages I have captured can't be aired, I went back to home, I was in panic. By then everyone came to know about it and everyone was in fear and panic. I was so troubled, how will I do my work, two days, three days, five days, ten days and fifteen days passed, I used to work too. Slowly I got curfew pass, I went to Srinagar, there is no internet in the office, the paper got shut, there is a media centre that the government set up, there is internet, I am not being able to work. How will the press work? People are really worried and disturbed, there are no protests going on these days, there are not much protests in the villages, in Srinagar there are protests. But these protests are not the protests like before, we don't know how many arrests are happened, it would be more than the government data, since the internet is off I am not being able to connect with my sources. How will we know? There is no phone, no internet, no landlines. National media is reporting that there are no issues and everything is normal. They are doing their reporting from Delhi. Schools and colleges are shut even now. No public transport happening. If someone is ill and they want to buy medicines what will they do, those who have their own vehicles can go. The media is unable to do their work. Newspapers in Kashmir are shut. it creates unemployment.
I came to Delhi searching for a job. I am attempting to get into an organization to work at. I didn't get any job. I am thinking I will work for them from Kashmir. If the situation gets better I wouldn't be searching for a job here. Our newspapers are not getting any ads. From 1989 to till date, even when Burhan Wani was murdered this much pressure was not there. This much pressure we didn't face before. When we are going to cover an encounter we would be very confident that we will go, but we won't be very confident about us returning from work.
Do you think the press fraternity of India like Press Club of India, Press Council of India etc. expressed concern over the curb on Kashmiri press?
I will not ignore the fact that when the media persons of Kashmir faced problems they have raised their voice, but now I don't think they have raised their voice. Press Club of India's chairman used to raise voice about the problems we faced, when I got pellet injury he raised his voice. We too protested. But when this clamp down is on, till now I haven't heard him utter a word. Why is he silent now? We can't tell them raise voice for us. They are free to do. If they find us fraternal, they will.  We will never go to them to hold their feet, demanding to raise voice for us.
Indian media in Kashmir was cherry picking individuals and talking to them, what do you say about their way of reporting?
I have only this much to say, any of you are welcome to Kashmir. You yourself come to Kashmir and see, isn't it? What if we are lying? Do you think we are lying? It is my request, come to Kashmir and see for yourselves. You come to my home, roam around and talk to people. You will get to know about the reality. Come to Kashmir. You can come today, tomorrow or any day. Go to the grass root level and talk to people. Conduct a debate at the Lal Chowk or Baramullah or Dal lake and anywhere. Media's job is to work like a bridge between people. You have to join people together. But what our Indian media does, they daily attack on the neighboring country. Those children who are going to be born of these journalists, what will they say? What will be their children telling any Kashmiri who have come to Delhi, they will ask, who are you? Are you a Muslim? This is what India is becoming. The journalists must do the work of fraternity. It should ward off grief. Those who are doing crime reporting, have to follow up the stories. Try to spread love. Love will be built between us. The national media have taken Kashmir and put in the debates, to make a business out of it. How big India is, why are you discussing Kashmir this much? Discuss mob lynching? Aren't you ashamed to focus only on Kashmir? I am inviting my friends in media to Kashmir. If things are open, show that. If things are shut show that. If you see how the journalists work there write about it, if you find anything wrong, write about that. If you feel the journalists working there are not safe, write about that. A Kashmiri journalist is not free. The journalists of Kashmir as depressed. The journalists get depressed because of the work they do. People of Kashmir are depressed. The depression intensified after the abrogation of article 35A. What is my urgency to find a job in Delhi? I have never wished to come to Delhi to find a website or channel where I can contribute them a documentary, a developing story, I will earn some money and run my family. Even after Burhan Wani's murder this much complete shutdown was not there.
When the curfew began, an official statement said it is for 1200 hours, that is 50 days. As it passed around 30 days they said the curfew will last till November. Now there are reports that say the army is getting ready to camp in Kashmir till March 2020. What do you feel about the coming days?
I didn't think of the coming days. I am working for Rising Kashmir, I do not know whether I am still part of the news paper. There is no phone to contact. I will work for them if I am still with them. Somehow I had managed to do my work from 2004 to 2019. If I get a job here I will stay here, or else I will go back to Kashmir and start fruits business. But shops are not open, the crops are not picked up from the fields. The only business that is happening in Kashmir is the small food carts where fruits, vegetables etc. are sold. I was thinking I will keep a banana cart, sell bananas for three to four hours a day, I can earn around 500 rupees a day. people come out to buy things, they buy oranges, they buy bananas, I have seen these days most of the people of Kashmir eat banana a lot. The children need it. It will be a good business for me. But I don't feel like doing that, a big name journalist from South Kashmir selling bananas! I am a government accredited journalist. If a journalist feels bad to do that how will other people face this crisis? I just want to earn for myself and family with Eeman. You can tell me if you know, what job I should do? Should I continue this job? Should I do some business? But every sort of business in Kashmir is in loss. I want to do some part time job where I can earn hundreds within some hours of the evening. I am depressed, what should I do? When I do something else, I don't know what all labels will fall upon me. I don't want my family die of hunger. This question took me to Delhi. This is done to drown the Kashmiri journalists, to drown Kashmir. Won't we get depressed? But we will not get drowned. If you want to cut the electricity, cut it. If you want to cut the water supply, cut that too. I am calling and talking to friends over phone, seeking job. I have covered everything from Kashmir, let it be any government program, be it encounter, be it civil killing, things I have seen, I had shown to the world. In this period I am beaten too much by the police, by the CRPF, by the army, by even the people.  I never had lost the courage, I moved on. I reached 2019, I feel like it is death. It is death for Kashmir. There is no freedom in Kashmir.