Anti-occupation politics of the Pulitzer Prize; when J&K journalists win, reactions reveal the impact
On May 4th 2020, a team of journalists from Kashmir and Jammu who work with Associated Press won the prestigious Pulitzer Prize 2020 for their Kashmir coverage. Dar Yasin, Mukhtar Khan from Kashmir and Channi Anand from Jammu won the awards for covering Kashmir, with a focus on the lock down imposed by the Government of India after the special status was abrogated. "This honor continues AP's tradition of award-winning photography," said AP' s president and CEO Gary Pruit. "Thanks to the team inside Kashmir, the world was able to witness a dramatic escalation of the long struggle over the region's independence. Their work was important and superb."
The award reaches Kashmir at a moment of heightened tensions, almost a month after Kashmir's domicile law is amended, amidst of ongoing operations of encounters of rebels which aims at ethnic cleansing, amidst the impacts of a pandemic lockdown followed by a military lock down, above everything amidst of ongoing, blatant denial of internet rights even at the face of a pandemic.
It was only few weeks back three Kashmiri journalists, Masrat Zahra, Peerzada Ashiq and Gowhar Geelani were booked for pursuing their professional duties, speaking truth. Kashmiri journalists had always faced state repression and mostly labelled by the state as over ground agents of militancy and even instigators of terror activities. Amidst incidents of intimidation with draconian laws like UAPA, PSA, haunted by agencies like NIA, journalists of Kashmir had always been stories themselves, while reporting from all hostile circumstances. Followed by decades old suppression of Kashmiri press specifically after August 5th, press freedom in Kashmir faced challenges it never had to face for such a prolonged curfew period. And it was only in the end of April a news website editor, Qazi Shibli who raised concerns over army deployment in the end of month of July, which was a setting up for the abrogation of article 370, got released from Bareilly jail. Shibli had to endure jail for nine months as he was booked under Public Security Act.
The incidents behind reporting always leave definite emotions in readers when the journalists narrate it on their own but when it comes to Kashmiri journalists, they leave open questions on to one's conscience itself. To an Indian certainly it must, in high volumes. Questions regarding imbalances in the idea of freedom of press, questions regarding one's privileges, questions regarding equality, questions on standard practices in Indian press and how it facilitated the decades long occupation, question of self determination, state repression, question of mental health, question of free movement, question of very existence of being able to breathe. Very importantly, how did the Indian media report Kashmir's freedom struggle since its evolution?
Many Indian news channels reported the news of Pulitzer, not all of them. NDTV wrote, "Powerful Images of Life": 3 Indian Photojournalists win Pulitzer.' Well, they had made their stand clear during reporting the Indian imposed lockdown after abrogation of article 370. They said they do not want to be part of the game by Pakistan. Scroll.in wrote, 'Three photographers from J&K win Pulitzer for coverage after erstwhile state lost special status, how did J&K lost its special status? Just lost?. Scroll.in's editor Naresh Fernandes wrote a tweet sharing the news, "Three Indian photographers win Pulitzer for J&K coverage after it lost special status". This tweet was replied by Kashmiris asking for 'moral corrections'.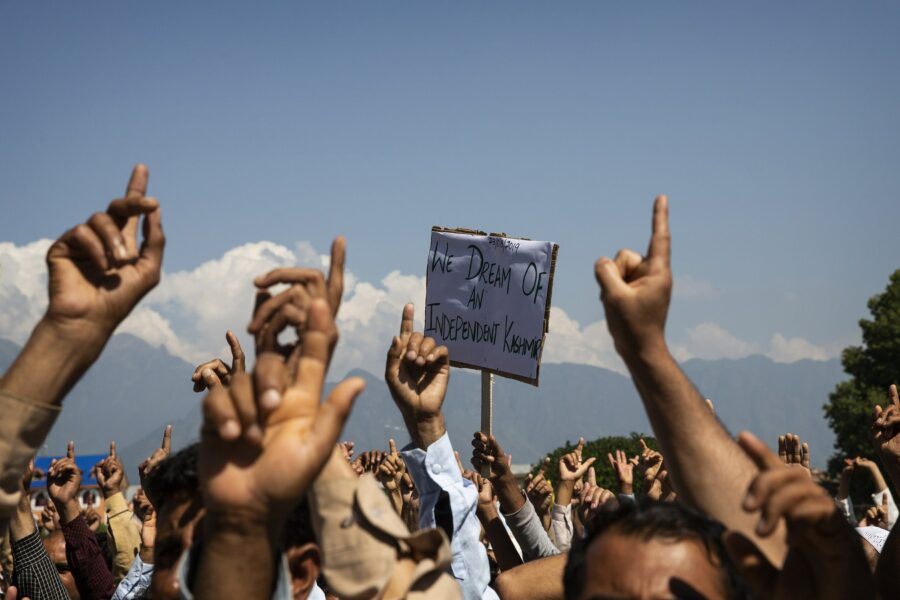 Once again, more viciously after the abrogation of article 370 and 35 A the much delighted claim of Indian nationalists over Kashmir is alive online. In fact, what does the Pulitzer say? It says otherwise. It says it is time for India to step back from Kashmir. When it comes to Kashmir, Sangh Parivar leaning Hindus and Kashmiri Pandits are together in trumpeting the propaganda of hatred against Kashmiri Muslims. It reaches far and wide but not to the extent the Pulitzer reaches.
Dar Yasin says with these photos he had been telling his own stories. During the lockdown that began in the middle of the night of August 4th, the photo journalists had to transport these stories to approach some travelers in the airport to carry it to reach their office in New Delhi. "Those were difficult times and those were frustrating times. You would take pictures and you were bothered whether they would reach to Delhi office. It was difficult to persuade strangers to take them out of Kashmir. But these things didn't deter us and made us determined to carry on with our work," Yasin told Outlook.
They clicked these photographs by hiding the cameras in vegetable baskets, strangers' rooms, etc. During the lockdown, journalists faced a very strict curb on their freedom of movement. Visuals they captured were forcefully erased from their cameras. They were beaten for reporting. Even with press passes they were not allowed to move freely to report whatever happened. The award winning photos were conceived into their camera in the midst of heavy armed forces presence. The risks they go through to tell their stories would be unimaginable for reporters and photographers of India, if at all they pause for a moment to think of it.
Who all are irked by Pulitzer to Kashmiri journalists?
It could be everyone who abused and hate mongered about international media when they reported post article 370 abrogation mass resistance in Kashmir, all those who campaigned that the visuals of protests they telecast are old, to paint a picture of 'obedient Kashmir'. Following this the protesting Kashmiris wrote the current date on their placards. It could be those communalists who demanded the international press to stay away from India, while Indian mainstream news channels went on aiding the government, manufacturing normalcy from locked down towns, never going to the protesting interiors. The hate did not end anywhere, the more oppression escalated, the resistance as well did.
Pulitzer award reaching to Kashmir has already irked a few Indian Hindus and Kashmiri Pandits. They call the Pulitzer anti-Indian and terror appeasing and ask the Pulitzer committee to rethink upon their decision.  A twitter handle named Hindu Americans even suggested having an award committee exclusively for Indian journalists.
In response to the hatred, Senior journalist Gowhar Geelani wrote,
The language of journalistic occupation
News wire Indo Asian News Service features editor Aarti Tikkoo Singh, who defended aggression of India in US House Foreign Affairs Committee hearing on Human Rights in South Asia on October 22, 2019, came up with a tweet asking for photographs of children killed by Pakistani army and attacks on minorities in Muslim majority nations.
No Pulitzer for journalists who captured pictures of children whose parents were massacred by Pakistan-sponsored terrorists. No Pulitzer because no journos cared to take pics of the kids blown up due to IEDs planted by Hizb, Lashkar & Jaish. No Pulitzer becoz no one lobbied.

— Aarti Tikoo Singh (@AartiTikoo) May 5, 2020
IANS carried a story that headlined 'Pulitzer prize questions India's legitimacy over Kashmir', reported the Pulitzer Prize board calling the valley a "contested territory" whose "independence" was revoked and "executed through a communications black out". The IANS feed claims that Jammu and Kashmir has been constitutionally and legally a part of India since 1947 when its princely ruler Maharaja Hari Singh signed instrument of accession which was later ratified by the popular government of the state. The central government last year in August revoked the special status of Jammu and Kashmir, bringing it at par with other states of India. In view of threats of violence and terrorism sponsored by Pakistan, the government imposed communication restrictions.  However, the Indian media was largely allowed to report and record life through the lockdown in Jammu and Kashmir."
Being one who defended the removal of article 370, Aarti Tikoo Singh had always been of the view that Kashmiri Muslims are terrorized by Pakistan sponsored militants. At the meeting she was opposed by Congress woman Ilhan Omar, she said: "Ms Singh, a reporter's job is to find the objective of truth about what is happening and report it to public. You have an enormous audience at The Times of India and you have an enormous responsibility to get it right. I am aware of how the narrative shaped by reporting can distort the truth. I am also very aware of how it could be limited to sharing only the official side of the story. The press is at its worst when it is a mouthpiece of government. In your version of the story , the only problems in Kashmir are caused by what you call militants, the only people protesting to break away from India; and are all nefariously backed by Pakistan."Right after the US Congress she spoke to ANI and said, that US Congressional hearing was a set up against India and in favor of Pakistan.
Editor of India's prominent news agency ANI, Smitha Prakash tweeted on May 5th 10:11 am , "Hello Indian media outlets, they are Indian photographers who won the Pulitzer. Not 'Kashmiri'. If the photojournalists were Tamilian or Malayalee would you have written Tamilian journalists? No right? Don't fall for foreign media agenda separating Kashmiris from Indians." Bigots online found themselves spilling hatred as usual calling out Pulitzer anti-India, anti-establishment, anti-Indian Army, anti- Hindu etc. which all in themselves reveals that it had hit where it is supposed to. The tweet is replied with Kashmiris calling out India as their occupier.
Hello Indian media outlets, they are Indian photographers who won the Pulitzer. Not 'Kashmiri'. If the photo-journalists were Tamilian or Malayalee would you have written Tamilian journalists? No right? Don't fall for foreign media agenda separating Kashmiris from Indians.

— Smita Prakash (@smitaprakash) May 5, 2020
Editors of India's most carried news agencies, IANS and ANI lied about Kashmir as it usually did. Both has a huge role and history of actualizing embedded journalism in Indian media, without letting any air of truthful version on Kashmir come in the popular, main stream, state- ally tv channels, lost the chance to do the same, since the award is taking the truth of Kashmir to far more than they can control.